The City of Saskatoon hired me to revamp the Forest Farm Park & Zoo copy in 2012. This copy is still used in the Leisure Guide (more than 100,000 distributed per year) and on their website.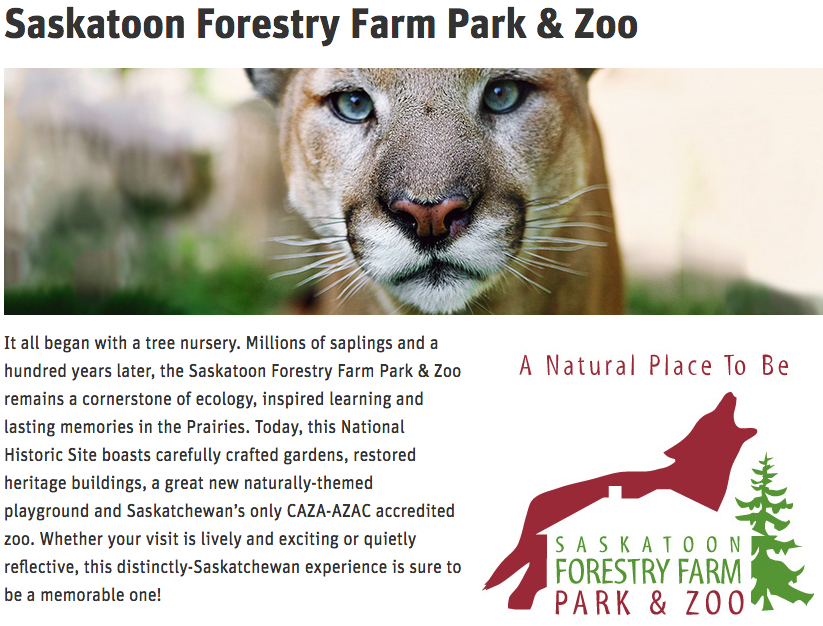 Full text (accurate as of 2012) follows:
Zoo
Have you ever met a Madagascar golden frog? How about a Schneider's skink? Find yourself eye-to-eye with native prairie animals and exotic reptiles, birds of prey, monkeys and others. With more than 300 animals living at the Zoo there is never a dull moment!
Kinsmen Bear Exhibit:
You may catch grizzly bears Koda and Mistaya frolicking in their pond at the Kinsmen Bear Exhibit. Check out those huge claws! These massive mammals are a species at risk.
Affinity Learning Centre
What colour are a porcupine's teeth? Is a python as slimy as it looks? Learn these things and much more during Zoo Camps, Creature Features and other engaging programs.
Forestry Farm Park
Challenge your friends to a cricket match, cast a line or find your zen in the gardens. The sprawling grounds of the Forestry Farm Park have a proud tradition of fostering old-fashioned values like connecting with loved ones and appreciating the nature around us.
Secret Gardens
Take sanctuary from the pressures of everyday life in the Robin Smith Memorial Garden, the Heritage Rose Garden or the Meditation Garden. The hard work and creativity of the Saskatchewan Perennial Society was poured into each of these gardens and the results are spectacular.
Catch and release
Bring your own gear to the pond where steelhead trout are the catch of the day. Catch and release is encouraged and there is a two fish per-person, per-day limit.
McDonald's Natural Place to Play Playgrounds
Climb a gigantic boulder, scout through a periscope or bump down the slide of rollers. This accessible new nature-themed playground is a super fun place to play for the young and the young at heart!
Room to Run
Host a friendly game of baseball or cricket at one of the sports fields. Later you can set up your celebratory buffet under shelter at the south end of the park.
Superintendent's Residence (Forestry Farm House)
Affectionately known as "the red brick house," the Superintendent's Residence was built in 1913. In its heyday the Sutherland Forest Nursery Station distributed 147 million trees to prairie farmers, playing a significant role in early settlement. Fully-restored by the Friends of the Forestry Farm House, it stands as a grand reminder of our heritage. For information on private rentals call 975-3382.